Expungement and Voter Rights Restoration Clinic provides critical services to the community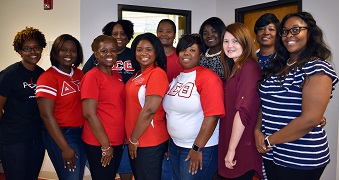 Attorneys from Legal Services Alabama partnered with The Montgomery Alumnae Chapter of Delta Sigma Theta Sorority, Inc., to provide a community service in Montgomery and surrounding areas including education about expungements and the voter rights restoration process and legal services, to begin the expungement process. The Expungement and Voter Rights Restoration Clinic, held May 13 in downtown Montgomery, provided critical services to positively impact the community.
Andriette Rowell, Montgomery Office Lead Attorney, Whitley Hall, Staff Attorney in the Montgomery Office, and Jaffe Pickett, Director of Development & Strategic Partnerships, assisted the Sorority in educating members of the community and providing legal assistance with beginning the expungement process. 
Hall, who has participated in expungement clinics with Legal Services in Arkansas, said the clinic helps clients to be reintegrated into society: "It's helping clients – helping them to remove criminal charges from their records," Hall said. "The clinic gives them a better opportunity to move forward with their lives, as they do not have to be burdened with their past."
Kynesha Brown, Chair of Political Awareness and Involvement for the Sorority, said there is a critical need within the community for this event.
"We're realizing how many people have criminal records," Brown said. "Many with a criminal record feel singled-out, have obstacles which cause them to go backward. There is a great need. We offer an informational session, and help them go through the process [of regaining voting rights]. We want to fight recidivism, and hopefully expand to other areas."
The event, which has been offered for the past three years, is held twice a year and offers a summit and informative, panel discussion. Brown said the organization plans to include additional educational resources in the future.
"In the fall, we plan to offer the same things we've done in the past, but also add a job fair that includes employers who hire those with criminal backgrounds, as well as show those who were recently incarcerated how to dress during interviews, how to write a resume, etc.," Brown said.
Pamela Hill, Chapter President of the Sorority, said the event is all about political awareness and involvement. The group is involved in the Rollin to the Polls Initiative, which assists low-income people in registering to vote and also provides transportation to polling sites.
"It's about getting these individuals re-acclimated into their communities – make them aware of the hurdles they may face, and how to overcome those challenges," Hill said. "We want to let them know that it's one thing to be registered to vote, but it's another thing to actually vote, which matters."
The Sorority also partnered with the James W. Wright Leadership Development Institute and the Office of the Secretary of State. The organization, Brown said, has reached more than 150 people since the event's inception.
"We target those with criminal backgrounds – who've been arrested or were on probation, those caught up in a mistake and just need to get back on the right track," Brown said. "We've gone into the neighborhoods, helped those who have been stripped of their voting rights, and are helping them to go through the process of regaining their rights."
Pickett said, "LSA is happy to partner with community focused public service organizations like Delta Sigma Theta Sorority, Inc., and LSA is available to provide community education and outreach, legal training and free civil legal services throughout the state, with the goal of benefiting low income and underserved individuals, families and communities."
For more information on partnering with LSA, please contact Jaffe Pickett, Director of Development & Strategic Partnerships, at (334) 223-0232 or jpickett@alsp.org.